Maker Of Flight by Richard Thomas is what happens when you make a story that should become a stop-motion animation short for the ages.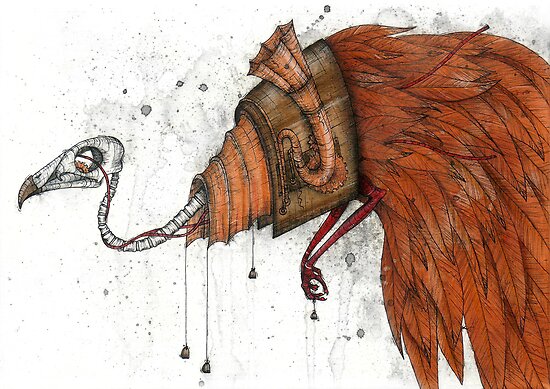 "But the sweet crank that was his only friend, nectar to the godless, she was his only reward for a job well done."
Isaac is a working man, an efficient man. He is Mozart when it comes to clockwork, restoring the dead birds to life by virtue of his mechanical wizardy. The tiny room that he occupies is his workshop and his entire world. His child captor is his only friend and even he won't talk to him for more than a minute each day.
But Isaac has his birds and his orange juice and his crank. He doesn't need much more than that.
"They were all letter "D" today. Helped him keep his head straight."
The Maker of flight is one of those weird examples of stories that you don't find all that often these days. It's not a story about a series of events, but it's more like a fever-dream short that lets you peek into a dark place, so you can look at it through Isaac's eyes.
It's these kinds of stories that remind me of those touching and experimental new wave of stop motion animation, all clockwork and heartfelt weirdness that made me love the Maker of Flight. The fact that this story knows how to keep you occupied just long enough to reel you in but knows how to gracefully leave the scene makes it even better.
Technical Stuff:
Konstantine Paradias is a Greek science fiction and fantasy writer. He has a blog, called Shapescapes (shapescapes). He's also hard at work writing a book about Mongols in Zastavas, tearing through Asia all the way to your back yard. He has been offered a chance to know the moment of his demise, which he described as 'hillarious'.
For comments or plain old contact, you can find him at kosparadias@gmail.com